'NIYUKTI'- LLOYD JOB FEST
Job Fest Progression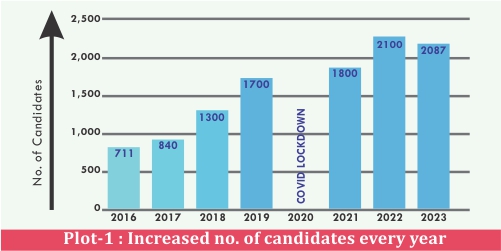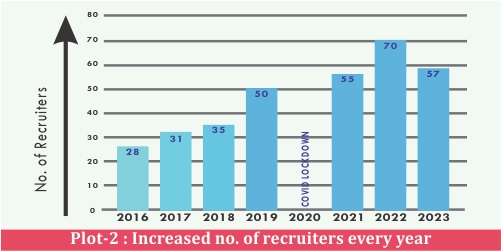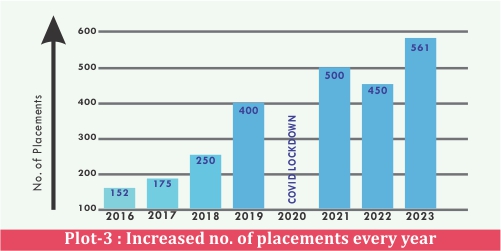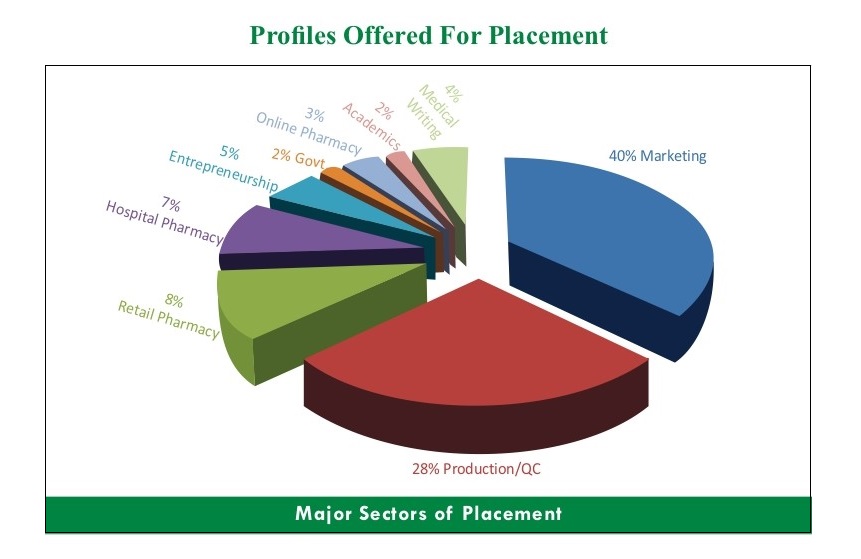 Niyukti: A Unique Job Fest
Niyukti is an apt name for an event which brings hundreds of job aspirants and scores of recruiting companies together under one roof and gives them an opportunity to seek out the best match for each other, from each other. In the four years since its inception, Niyukti, the Annual Job Fest of the Lloyd Group of Institutions, Greater Noida, has hosted more than 4000 students and 150 recruiters (some of them choosing to come again and again every year!) on its campus in the month of April every year. About 1700 students have found their first job in the Lloyd's Job Fest-Niyukti and started the journey of their career.
The Lloyd Job Fest started in 2016 out of a discussion between the Group Chairman, Shri Manohar Thairani, the then Drug Controller General (India), Dr. G N Singh, Sh. S L Nasa (Registrar, Delhi Pharmacy Council and President, Indian Hospital Pharmacists' Association) and the personality bringing them all together, Lloyd Group Director, Prof. (Dr.) Vandana Arora Sethi. The thread of the discussion was placements and the struggle made by passing out graduates in finding suitable jobs and the growing disinterest of big companies in visiting college campuses for their recruitments. They identified that it is not just a problem for Lloyd but for all the students in almost every college as the youth of the nation is in dire need of jobs while at the same time companies lament the unavailability of a large employable pool of talent. The dream "sab ko shiksha, sab ko rozgaar" of our Honorable Prime Minister could be realized only if some socially responsible organizations took it upon themselves for this noble cause. Dr. G N Singh and Sh. Nasa pledged their full and unconditional support if the Lloyd Group was ready to make the efforts call multiple companies and provide them a large pool of candidates by inviting students from other colleges.
With no other resources and no financial aid from any external agency, the Lloyd Group took it upon itself to organize and event where not just its own students but students from other colleges, so called competitors, as well. The single most defining feature of Niyukti is that no student is charged a single penny to participate and meet several recruiters in one single day. All they have to do is simply register online for free and come to the Lloyd Campus on the day of the event. What started as a standard placement exercise, evolved into a much awaited mega-placement drive for which final last year students of hundreds of colleges all over India wait keenly, and many recruiters defer their first quarter hiring process to make it coincide with the Lloyd Job Fest. The Lloyd Group can safely claim today that their Annual Job Fest has grown from "Delhi-NCR's much awaited Job-Fest" to "India's much awaited Job-Fest".
The event's sole purpose is to "connect the right candidate with the right company for a bright career" and provide job opportunities for the soon-to-be-graduates as well as struggling-experienced students. Lloyd-Job-Fest is sumptuously publicized, covering a huge geographical arch and today attracts students from not just Uttar Pradesh and Delhi-NCR but Rajasthan, Orissa, Maharashtra, Tamil Nadu, Madhya Pradesh and Punjab
We have hosted candidates from institutes all over India, including some leading names like Delhi University (DIPSAR), Jamia Hamdard, AIIMS, Amity University, BHU Institute of Medical Sciences, Banasthali Vidyapeeth, BITS, Chitkara University, DPSRU, Guru Jambeshwar University (Hisar), DIT (Dehradun), Dr. Harisingh Gour Central University Sagar, GLA University, Galgotia's University, GD Goenka University, Jaipur National University, JSS College of Pharmacy, K R Mangalam University, KIET (Muradnagar), Kurukshetra University, MIET (Meerut), NIPER, RKGIT (Ghaziabad), Sharda University, Subharti University and Teerthankar Mahaveer University.
Each passing year has seen the Job Fest grow in reach, size and volume in terms of participating companies, students attending and the number of selections (see below).